How do they work? In one simple action the Trolley Bags system spreads out and rests on the supermarket trolleys, giving you a series of open and upright bags into which you can pack and sort your shopping with both hands. The bags attach and separate via Velcro so you can transport them easily to and from the car.
1 – Hang & Shop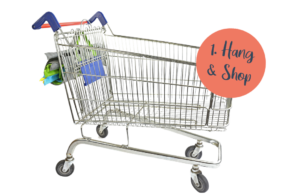 2 – Rack & Open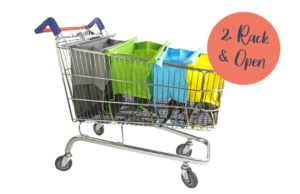 3 – Pack & Sort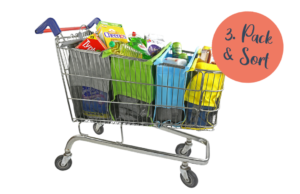 4 – Separate & Place in car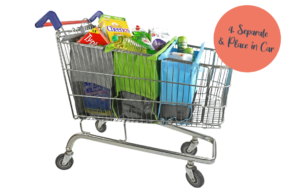 Did you know that Trolley Bags are proven to save up to 40% of the time spent packing at the checkout? We tested Trolley Bags Original versus regular reusable bags and due to the nature of the bags being able to stay racked open and upright, the shopper could pack their items straight into these bags with both hands rather than having to hold regular bags open with one hand and pack with the other. Comparing the packing times, using Trolley bags Original, the shopper packed their items almost 40% quicker!
The first designs of Trolley Bags featured a half fabric and half mesh bottom for a more flexible bag that moulds its shape to the shopping. This design also rolls up easily for carrying and is a more breathable fabric option for your Trolley Bags.
Did you know one single-use plastic bag takes 10-20 years to decompose? Just one Trolley Bag from the set can replace up to 1000 plastic bags in its lifetime. We need to do our bit to help the climate crisis now and starting with your single-use bag consumption seems a small step, but it quickly adds up to become a big difference.
But don't just take our word for our great they really are, read our customer reviews here and see for yourself.
We are all about making food shopping less stressful and reducing checkout pressure. Do you have any handy tips? Let us know in the comments below or tag us on social media @TrolleyBagsUK